Rome, the eternal city, captivates visitors with its rich history, stunning architecture, and timeless beauty. When planning a visit to this enchanting destination, choosing the right hotel is crucial for a memorable experience. In this article, we will explore the top 15 hotels in Rome, Italy, known for their exceptional service, luxurious amenities, and prime locations. Whether you seek opulence, modern elegance, or a charming retreat, these hotels offer something for every discerning traveler.
Hotel Hassler Roma: Situated at the top of the Spanish Steps, Hotel Hassler Roma is a symbol of luxury and refinement. With its exquisite rooms, gourmet dining options, and impeccable service, it has become a favorite among discerning travelers.
Hotel Eden: Nestled in the heart of Rome, Hotel Eden boasts breathtaking views of the city and offers refined luxury with its elegant rooms, Michelin-starred dining, and a rooftop terrace providing panoramic vistas.
Hassler Roma: Situated atop the Spanish Steps, Hassler Roma is renowned for its timeless elegance and personalized service. This historic hotel offers spacious rooms, a Michelin-starred restaurant, and an inviting spa.
Hotel de Russie: With its enviable location near the Spanish Steps and the Trevi Fountain, Hotel de Russie combines classic Italian style with modern comforts. The hotel features lush gardens, a spa, and a rooftop terrace.
Palazzo Dama: Housed in a 19th-century aristocratic palace, Palazzo Dama offers a blend of contemporary design and timeless charm. This boutique hotel features stylish rooms, a swimming pool, and a delightful garden.
The St. Regis Rome: Immerse yourself in luxury at The St. Regis Rome, where opulent rooms, a sumptuous spa, and world-class dining await. This grand hotel showcases the elegance of a bygone era.
Hotel Splendide Royal: Perched atop the iconic Via Veneto, Hotel Splendide Royal exudes classic Italian grandeur. Guests can indulge in gourmet cuisine, enjoy panoramic views, and experience unparalleled service.
Portrait Roma: A gem in the heart of Rome's designer district, Portrait Roma offers exquisite suites with modern décor and personalized touches. The hotel provides stunning views of the city's iconic landmarks.
J.K. Place Roma: Situated near the Spanish Steps, J.K. Place Roma is a haven of sophistication and style. With its elegant rooms, tranquil courtyard, and impeccable service, it offers an unforgettable experience.
Rome Cavalieri, A Waldorf Astoria Hotel: This magnificent hotel showcases unparalleled luxury and stunning city views. Guests can savor gourmet cuisine, unwind at the spa, or relax by the pool while enjoying the breathtaking surroundings.
Gran Meliá Rome Villa Agrippina: Set in the charming Trastevere neighborhood, Gran Meliá Rome Villa Agrippina offers a serene oasis amidst the bustling city. The hotel features stylish rooms, lush gardens, and a luxurious spa.
Palazzo Manfredi: Boasting an enviable location opposite the Colosseum, Palazzo Manfredi combines historical charm with contemporary elegance. Guests can enjoy stunning views, Michelin-starred dining, and luxurious accommodations.
The First Roma Arte: Art enthusiasts will appreciate The First Roma Arte, a boutique hotel celebrating contemporary art. The hotel showcases elegant rooms, an art gallery, and a rooftop terrace with panoramic views.
Hotel Vilòn: Tucked away in a historic building near Piazza Navona, Hotel Vilòn offers a refined atmosphere and personalized service. Guests can enjoy beautifully designed rooms, a charming courtyard, and a cozy library.
Aldrovandi Villa Borghese: Surrounded by the lush gardens of Villa Borghese, Aldrovandi Villa Borghese offers a tranquil escape in the heart of Rome. This elegant hotel features spacious rooms, a spa, an outdoor pool, and a Michelin-starred restaurant.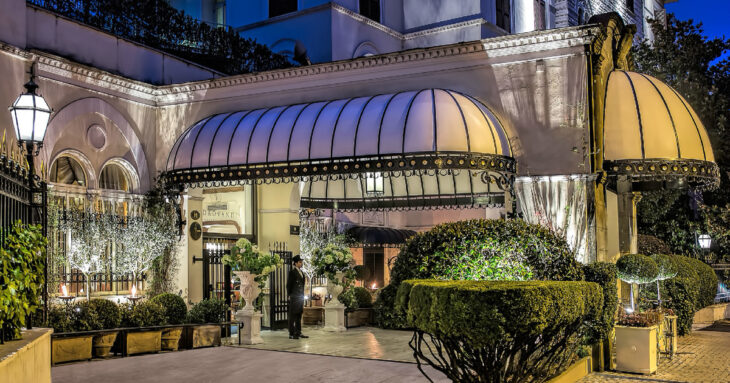 Rome offers a plethora of luxurious accommodations, each with its own unique charm and appeal. The top 15 hotels listed above provide an unforgettable experience, combining opulent amenities, impeccable service, and prime locations. Whether you prefer classic elegance, contemporary design, or a peaceful retreat, these hotels cater to every traveler's desires. During your visit to the eternal city, indulge in the splendor and comfort offered by these exceptional establishments, and create memories that will last a lifetime.
Go to Three days in Rome