Tweet
!function(d,s,id){var js,fjs=d.getElementsByTagName(s)[0],p=/^http:/.test(d.location)? 'http':'https';if(!d.getElementById(id))js=d.createElement(s);js.id=id;js.src=p+'://platform.twitter.com/widgets.js';fjs.parentNode.insertBefore(js,fjs);}(document, 'script', 'twitter-wjs');
My friend Doug created , a book that describes how he traveled through Europe in 2009 with only a 1963 guidebook. He signed my copy and said, "Don't read chapter nine." This chapter is about Venice which he loved, but he didn't have a great time in.
It was still something I had to read.
Half-jokingly, I said to Doug later that he had "done it wrong" and that I would be happy to give tips for his next visit. I was certain it would be different. Although he has not yet accepted my offer, he did mention that his mother was visiting Venice, and he was asking me for advice. At first I told him to be nice, then I added, "Better still, don't tell my mother anything." Send her to me."
Doug's mom was already in Rome at that time, so I had a few emails to exchange with her. She said it was snowing while they were visiting Pompeii. We then headed for Venice, which was still in the throes, prepping for this years Carnevale. She appreciated my tips and liked the hotel that I recommended. That was it.
I didn't receive the mail until the other day.
Doug's mom sent me this delightful postcard, featuring the Campanile in one my favorite cities asking me where I am. It still makes me smile.
Patricia, thank you so much for your lovely postcard. I'm glad that you enjoyed Venice! Now, we need to convince Doug …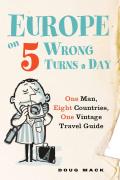 Even though Doug misunderstood Venice, I recommend the book. It's great fun for both novice and experienced travelers.
The book includes chapters on Venice as well as Rome and Florence, along with other European cities that make up the Grand Tour.
You can click the link in the book picture to the right to go to Powells.com to purchase a copy. There are many other bookstores that sell the book, as well.
You can also see more of my reader feedback on the Italy Explained Press Page.
Tweet
!function(d,s,id){var js,fjs=d.getElementsByTagName(s)[0],p=/^http:/.test(d.location)? 'http':'https';if(!d.getElementById(id))js=d.createElement(s);js.id=id;js.src=p+'://platform.twitter.com/widgets.js';fjs.parentNode.insertBefore(js,fjs);}(document, 'script', 'twitter-wjs');
One Response to "Postcard From Venice"