Drinking wine in Italy is an ordinary thing. Since practically everyone drinks Italian wine, it's not expected that only true experts will order wine. Along with the fact that Italy boasts some of the best wines in the world. It is an open-to-everyone attitude that also makes Italy one of the best places to try out different varietals, even if you're the beginner.
Furthermore, if you are the wine lover, you should check out the Tuscany day trip from Florence. This tour takes you to visit two wineries to see how some of the best wines in Italy are made. You should also enjoy a full farmhouse lunch, a stroll around Siena, and all the wine tastings you want.
One of the greatest pleasures of eating in Italy is trying the country's wine. It's not only Italy's national drink, but it's also a national passion: more than 1 million wine-growers live in Italy, and, as you might have guessed, Italians drink more wine than anyone else in the world.
Some classic Italian wines to know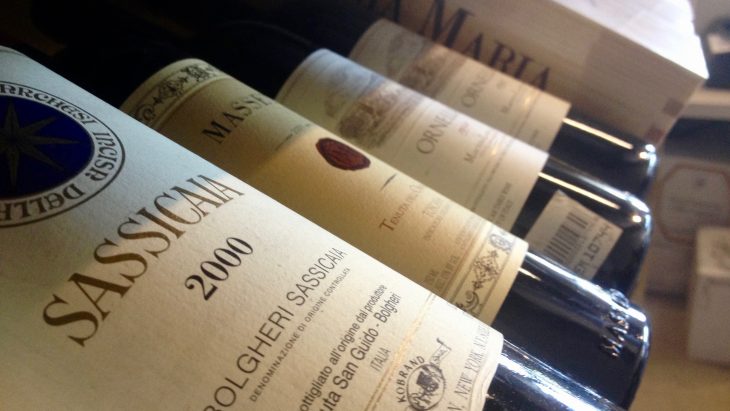 Italian wines, like Italian food, are intensely regional. Some, though, are particularly famous, and consequently more widely available outside their home regions. You can find here are some varieties you should know:
Asti Spumanti: One of the most well-known white wines in Italy, this is a sparkling variety that hails from Piedmont.
Barolo: The most valuable wine produced in Italy, DOCG-protected Barolo is made from the Nebbiolo grape and comes from the northern region of Piedmont. It's known as a specially rich, full-bodied red.
Chianti: Invented in the area of Chianti in Tuscany, this red wine comes at least 80% from the Sangiovese grape. Chianti is one of the best wine regions for both aspects and accessibility.
Brunello di Montalcino: With few rivals in Italy, this DOCG-classified, Montalcino-made wine becomes 100% from the Sangiovese grapes and historically has been considered as number-one wine of Tuscany.
Super Tuscans: From Tuscany, these wines are any that don't adhere to the region's usual blending laws, meaning they vary greatly. Some though, Super Tuscans are the most expensive and renowned in the region.
Prosecco: A sparkling white wine produced in northern Italy, particularly Veneto. This is a favourite pre-dinner drink all around the world.
Italian Wine Regions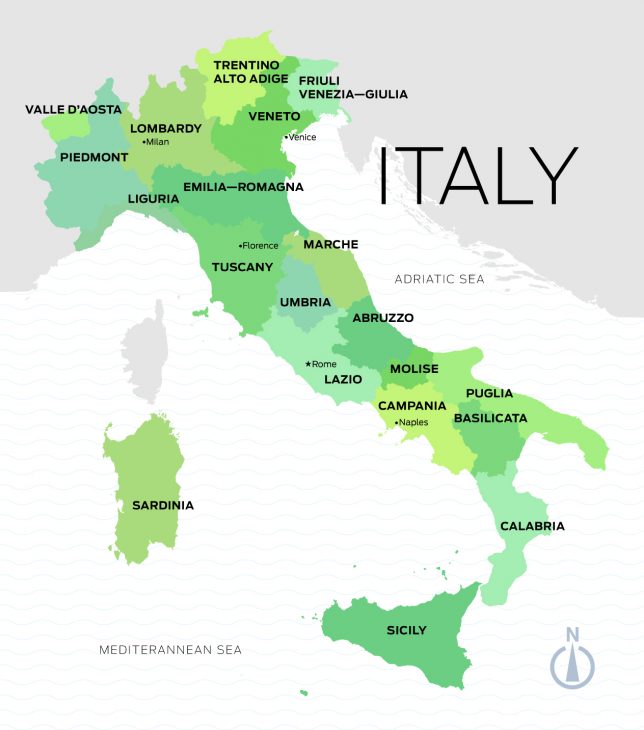 Question: How Many Italian Wine Regions?
Answer: 20
Italy is often regarded as having 4 distinctly different areas that contain the 20 unique regions.
NW Italy
Valle d'Aosta
Piemonte
Lombardy
Liguria
NE Italy
Friuli-Venezia Giulia
Trentino-Alto Adige
Veneto
Central Italy
Toscana
Lazio
Emilia-Romagna
Marche
Abruzzo
Umbria
Molise
Southern Italy
Puglia
Sicily
Basilicata
Sardegna
Campania
Calabria
In the US, most Italian wine lists include wines from Toscana, Emilia-Romagna, Piemonte, Abruzzo, Veneto, , Alto Adige, Puglia and Friuli. The Italian wine regions that are more rare include Lazio, Calabria, Liguria, and Basilicata.