Italy is a country renowned for its rich history, breathtaking landscapes, and vibrant culture. From the rolling hills of Tuscany to the ancient ruins of Rome, Italy offers an array of experiences for travellers. However, there's no better way to discover the country's coastal beauty than aboard an Italy yacht. Combining luxury, comfort, and exploration, a yacht charter in Italy is an unforgettable experience that allows you to discover hidden gems, indulge in delectable cuisine, and immerse yourself in the Mediterranean's azure waters.
Italy boasts a coastline stretching over 7,600 kilometres, dotted with picturesque ports, charming fishing villages, and stunning beaches. Exploring these coastal wonders by yacht provides a unique perspective and access to exclusive locations that are often inaccessible by land. Whether you're a seasoned sailor or a first-time cruiser, the Italian coastline offers a diverse range of destinations and experiences to suit every taste.
Sailing along the Italian Riviera, located on the northwest coast, is a favourite choice among yacht enthusiasts. The region is famous for its glamorous resorts such as Portofino and Cinque Terre, which showcase colourful cliffside houses and pristine turquoise waters. As you cruise along the coastline, you'll be treated to breathtaking views of rugged cliffs, vineyards, and charming seaside towns. These coastal gems are also home to world-class restaurants, where you can savor delectable seafood dishes and sample renowned Italian wines.
Further south, the Amalfi Coast offers a postcard-perfect setting for yacht charters. With its dramatic cliffs, pastel-coloured villages, and crystal-clear waters, it's no wonder this UNESCO World Heritage site is a popular destination. From the enchanting town of Positano to the charming village of Amalfi, each stop along the coast offers its own unique charm. Don't miss the opportunity to visit the famous island of Capri, where you can explore its caves, relax in luxurious beach clubs, and take in breathtaking views from the Faraglioni rock formations.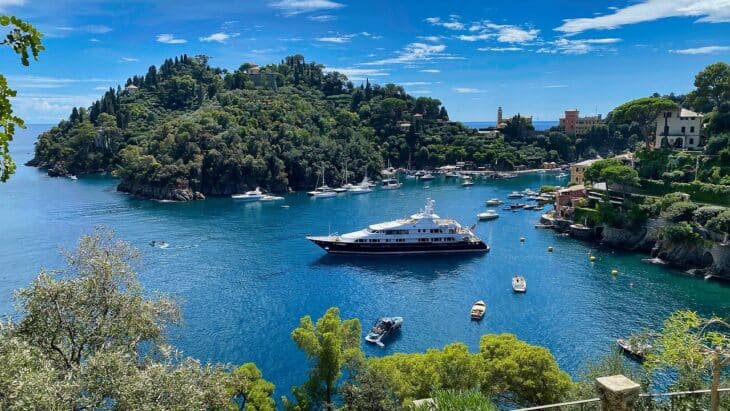 For those seeking a more laid-back and rustic experience, sailing to the islands of Sardinia and Sicily is a must. Sardinia, located in the heart of the Mediterranean, boasts pristine beaches, rugged landscapes, and a rich cultural heritage. Explore the glamorous Costa Smeralda, known for its luxurious resorts and exclusive yacht clubs, or anchor in secluded bays and coves to enjoy the tranquillity of nature. Sicily, on the other hand, offers a blend of history, culture, and natural beauty. Visit the charming town of Taormina, with its ancient Greek theatre and stunning views of Mount Etna, or sail to the Aeolian Islands to discover volcanic landscapes and unique black sand beaches.
When it comes to accommodation during your sailing adventure, Italy offers a range of options to suit every budget. While luxury yachts provide the ultimate indulgence, complete with professional crew and top-notch amenities, there are also more affordable options available. Italy's youth hostels are a popular choice among budget-conscious travelers, offering comfortable and sociable accommodation in prime locations. From dormitory-style rooms to private cabins, youth hostels provide a vibrant atmosphere where you can meet fellow travelers and exchange stories of your Italian adventures.
However, if you're looking to truly embrace the luxury and freedom of a yacht charter, there are numerous reputable charter companies in Italy that cater to different preferences and budgets. These companies offer a wide selection of yachts, from sleek motor yachts to elegant sailing vessels, ensuring you find the perfect vessel for your journey. Chartering a yacht grants you the freedom to create a personalized itinerary, choosing the destinations, activities, and pace of your adventure. Whether you prefer to relax on deck, dive into the clear waters for a swim, or explore hidden coves with a kayak or paddleboard, the choice is yours.
Moreover, the experienced crews of yacht charters are well-versed in the local areas, providing valuable insights into the best anchorages, restaurants, and attractions. They can recommend hidden gems and arrange unique experiences, such as private beach picnics or visits to local wineries, further enhancing your journey.
In conclusion, an Italy yacht charter offers a truly immersive and luxurious way to explore the stunning Mediterranean coastline. From the glamorous resorts of the Italian Riviera to the rugged beauty of the Amalfi Coast and the enchanting islands of Sardinia and Sicily, Italy has something to offer every type of traveler. Whether you choose to indulge in a luxury yacht or opt for a more budget-friendly youth hostel, the experience of sailing along the Italian coast is sure to leave you with lasting memories of picturesque landscapes, delicious cuisine, and warm Mediterranean hospitality. So set sail and embark on an unforgettable adventure along the shores of Italy.