It's not just the most beautiful lake in Italy. It also boasts picturesque towns, rich history, and stunning beauty. It is spread across three regions: Veneto in the east, Lombardy in the west and Trentino-Alto Adige north. This makes it difficult to figure out where to stay and how to get there. We have insider tips and tricks for Lake Garda. These include where to stay, which towns to visit, and how to use public transportation to get around Lake Garda.
The towns around Lake Garda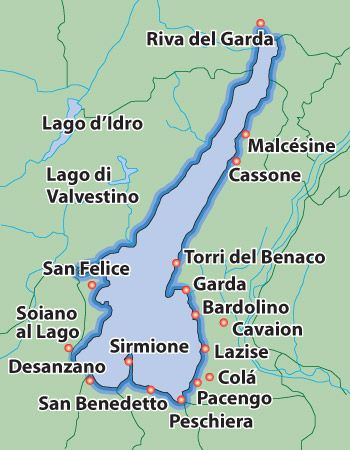 Lake Garda is approximately 30 miles long (50km) with a width of 10 miles (17km), and covers 100 miles (158km). You'll find more than 20 charming towns along the shore, from Riva del Garda to the south to Peschiera to the north.
Sirmione is a well-known town, but Lake Garda has many other gems such as Torri del Benaco in the Veneto region and Nago-Torbole in the Trentino-Alto Adige area.
How do you decide what to add? These are some of our favorite towns around Lake Garda.
Torri del Benaco

Torri del Benaco, one of the smaller towns on the lake, is a picturesque medieval town. It has a beautiful harbor with colorful fishing boats and the Castello Scaligero. There's also a promenade along the lakeside with restaurants.
This town is a peaceful place where you can relax in the summer.
Nago-Torbole

Nago-Torbole actually consists of two towns, each one quite different but equally fascinating. Torbole is a popular spot for windsurfers and sailors. Nago, however, can be found on the slopes of a mountain and boasts stunning views. Goethe was so taken by Torbole, that he called it a "marvel in nature, an enchanting spot."
The Monte Baldo Park is located nearby, which is known as the "Garden of Europe" because of its diversity of fauna and flora.
Bardolino

Bardolino's mild climate is ideal for growing grapevines. It's, therefore, no surprise that the hilly landscape of Bardolino produces its famous red wine. The Romanesque church San Severo with its original frescoes and the nearby church of San Zeno (9th century) are worth a visit.
Limone sul Garda
Limone sul Garda is a popular tourist destination that has retained its small-town charm. It is located at the foothills of Dosso di Roveri's steep Dosso di Roveri mountains and is well-known for its lemon groves. However, its name is not derived from lemons but rather from the Latin word limes which means "border". The Castel lemon house, an 18th-century building that houses both a museum as well as an educational center, is a must-see. It was acquired by the city in 2005. A visit to the San Pietro church is a must, featuring beautiful frescoes from the 13th and 14th centuries.
Salo
Salo is located at the foot of San Bartolomeo's mountain and is the largest city in the western half of the lake. Its lakeside promenade has the longest length. The Cathedral was commissioned in the 15th-century and is worth a visit.
Malcesine
Malcesine, with Monte Baldo as its background, is breathtaking and impressive. Visitors come to Malcesine for the stunning Castello Scaligero or Palazzo dei Capitani. However, many people also visit the cablecar to Monte Baldo to enjoy breathtaking 360-degree views over Lake Garda.
Sirmione
Sirmione, a famous tourist attraction, is located on a peninsula that extends into the lake. The Grotte di Catullo, the remains of a large Roman villa, the Scaligero Castle and its thermal baths are also found here. Sirmione is crowded in summer. To enjoy the charming town to its fullest, visit during the off-season.
Getting around Lake Garda
By air

Lake Garda can be reached from several major airports. The closest airport is Verona-Villafranca, which is 9 miles (15km), while Brescia–Montichiari lies 18 miles (30km). You can also fly into Milan (both Linate or Malpensa airports), which is approximately 60 miles (100km). You can either take a bus, train or car to Lake Garda from the airports. (Read on for more information on public transport in Lake Garda). ).
Train
From Verona, you can reach two towns on Lake Garda by train: Peschiera del Garda or Desenzano. Both towns are located in the southern half of the lake. From Verona's Porta Nuova Station to Peschiera del Garda takes approximately 15 minutes. Desenzano takes about 20 minutes. Fast trains to both towns depart almost every hour.
Do you want to travel to Riva del Garda on the northern side of the lake? Take a train from Milan or Verona to Rovereto, and then a bus towards Riva del Garda.
By bus

You can travel to the eastern side of Lake Garda by bus from Verona and Riva del Garda. This includes stops in Lasize (Bardolino), Garda (Torre del Benaco) and Garda. The complete bus schedule can be found here.
You can travel to the west side by taking the train from Verona towards Desenzano. From there, buses connect Desenzano to towns up to Riva del Garda in the north. You can also take the bus from Desenzano to Sirmione. This takes approximately 30 minutes. Notice: Buses are more common in summer, the high season of the region.
By ferry
The ferry is another convenient mode of transportation. The ferry is another convenient mode of transport on Lake Garda. There are standard and fast ferries, as well as services for cars between Maderno, Torri del Benaco and, in summer, Limone and Malcesine. Here are the timetables for each season. Details for ferry prices can be found.
Where to Stay in Lake Garda
There are many accommodation options in Lake Garda. We recommend that you stay at an agriturismo to enjoy the authentic experience and the beauty of the region. This guide will tell you everything you need to know about staying at an agriturismo. This website offers a list of farmhouses that offer a wide variety of facilities.