Christmas in Milan is more than beautiful. It's also the best season and place to shop! Milan is one of the most famous shopping destinations in the world. It lights up during Christmas with miles upon miles of boutiques, designer shops, and outdoor markets. This makes it the ideal destination to finish your Christmas shopping list.
Even if you don't like shopping, there are plenty of things to do, including midnight Mass at Duomo and ringing in New Year's Eve like a Milanese.
Are you coming to Milan for Christmas and New Year's Eve? Here's how to enjoy Christmas in Milan, from Christmas markets to holiday museum hours:
Christmas markets in Milan
December 7th is the official start of Christmas. This holiday, better known locally as St. Ambrogio's patron saint in Milan, is also when Christmas officially begins. Every season opens with the O Bej, O Bej Christmas market, which in Milanese means "oh so nice!" Every year, hundreds of stands are set up at Castello Sforzesco selling everything, from homemade goods to local delicacies such as panettone (sweet Christmas bread), and more.
Are you tired of holiday shopping? You can get lost among the many stands at the Artigiano In Fiera Exhibition Center, which is held during the first 10 Days of December.
Milano Christmas Shopping:
You don't have to miss the markets – Milan offers many other shopping options. You can take a walk down Milan's most fashionable streets like Via Monte Napoleone and Corso Buenos Aires to see the gorgeous windows and shop the latest fashions. Our guide to shopping in Milan will provide more information. Don't expect to find any deals. Some chains have holiday sales but most major discounts begin in the second week of January.
Milan's most beautiful Christmas decorations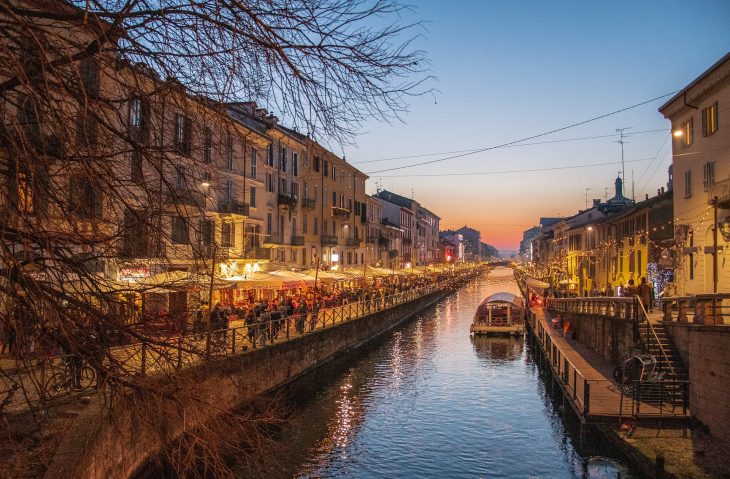 The lights rise as the sun sets. Bright lights illuminate the piazzas and architecture of the city at Christmas.
The Christmas tree at Piazza Duomo is our favorite spot to see the festive decorations. Also, we love the magnificent dome at Galleria Vittorio Emanuele II. For a 360-degree view of Milan's Christmas lights, climb the Torre Branca in Parco Sempione. (For more information on the Torre Branca , see our post on Milan's Parco Sempione. ).
Milan's museums and churches offer holiday hours
Milan is home of some of the most highly acclaimed art worldwide, including its Gothic Duomo, elegant opera house, Renaissance masterpieces, and avant-garde design. Be aware that many of these sites will be closed during Christmas, especially on December 25th and January 1st.
Here's a list of what's available, when, and how to access it:
Leonardo Da Vinci's Last Supper: Closed Mondays, December 25th and January 1st. Our guide to how to make the most of the Last Supper is a great resource!
Duomo Terrace for a close-up view of the Cathedral and breathtaking views of the city. Closed Dec. 25,
Museo del Novecento, for 20th-century art: Open every day.
Castello Sforzesco is Milan's 15th-century castle. It is open every day but the museums close Mondays, Dec. 25, and Jan. 1.
Triennale for contemporary art and design: Closed Mondays, Dec. 25, and Jan. 1.
Pinacoteca di Brera is a museum that houses a large and excellent collection of Renaissance paintings. It is closed Mondays, Dec. 25, and Jan. 1.
Palazzo Reale is a temporary royal palace. It's open from 9:30 – 2:30 p.m. on December 24th and 31, and 2:30 – 7:30 p.m. on January 25th and 26th.
La Scala is the most famous opera house in the world. La Scala offers many performances throughout the holiday season. Tickets sell quickly so book tickets well in advance
Milan's restaurants, shops, and public transport are open during holidays
Many restaurants and stores close on Christmas. This includes the large Rinascente departmental store. A few are still open, but it is best to make reservations ahead. Some of our favorites for Christmas meals include Il Luogo di Aimo e Nadia and Al Garghet.
Do you want to escape the city for the holidays? Milan's central location means that you can reach the lakes (Lago maggiore and Lake Como), and the Alps (Valtellina and Courmayeur), in under two hours. Christmas Day is a good day to travel by train or public transport, although service may be limited. Before you plan your trip, make sure to check out our guide on public transportation in Milan.
Celebrate Christmas like the Milanese (including midnight Mass).
Italians enjoy a multi-course fish dinner to prepare for Christmas Day. This is followed by midnight Mass.
The Duomo's Vigil Mass with the Archbishop starts at 11:30 pm. However, you should arrive at least two hours early to secure a spot in the church. The churches of Santa Maria delle Grazie and Sant'Ambrogio also host Christmas Day services and a popular midnight Mass.
Sometimes, Christmas Mass in English can be offered at Chiesa Santa Maria del Carmine. However, it is not always scheduled.
Panettone is a sweet Christmas bread made with candied fruits and originated in Milan. It is a Christmas staple throughout Italy. It is often given as a gift and then served with dessert. Peck and Marchesi are our favorite panettones. But be prepared to wait! (Don't forget to check out our panettone post and other Italian Christmas cakes! ).
Milan: How to Celebrate the New Year
New Year's Eve in Milan is a great celebration. Many of Milan's trendy clubs offer packages that include aperitivo and dinner, as well as dancing. Gattopardo and Byblos are two of Milan's most popular spots.
There are also more affordable celebrations in the city, such as fireworks at Castello Sforzesco, parties at Piazza duomo, and bars along the Navigli canals or around the Colonne di San Lorenzo piazza.
Most restaurants and shops will close on New Year's Day just like on Christmas Day. This allows workers to celebrate the new year with their families.
Even though the Epiphany of January 6 isn't celebrated as often as in other cities in central and southern Italy, Milan celebrates it with a procession starting at Piazza Duomo to Sant'Eustorgio (near Navigli) with a reenactment of the march of Three Kings.
Don't forget to check out our post about celebrating Christmas in Florence if you're visiting Italy during Christmas.