What is Christmas in Venice? It's cold, quiet, and magical. The holidays are a wonderful time to visit Venice, with its beautiful canals, piazzas, and ornate architecture, as well as locals doing Christmas shopping.
In case of acqua alta, make sure you have warm, waterproof clothes.
The highlights of December and January are shopping for gifts (hand-blown glass and lace are world-famous, anyone?). You can also attend the midnight Mass at St. Mark's or enjoy fireworks on New Years' Eve.
For a guide on how to make the most of New Year's and Christmas in Venice, read this article.
Venice is the perfect place to enjoy Christmas and Hannukah
Christmas is a magical time in Venice! There are lights everywhere in Venice. Even on the gondolas. You can read more about riding gondolas in Venice. Christmas songs are performed in special concerts at churches and piazzas throughout December. On Christmas Day, church bells at St. Mark's tower are rung continuously.
Venice's large Jewish community celebrates Hanukkah with beautiful decorations, such as large, illuminated menorahs. This is especially true in Cannaregio where the Jewish Ghetto was once located. (Find out more information about the sestieri or neighborhoods of Venice! ).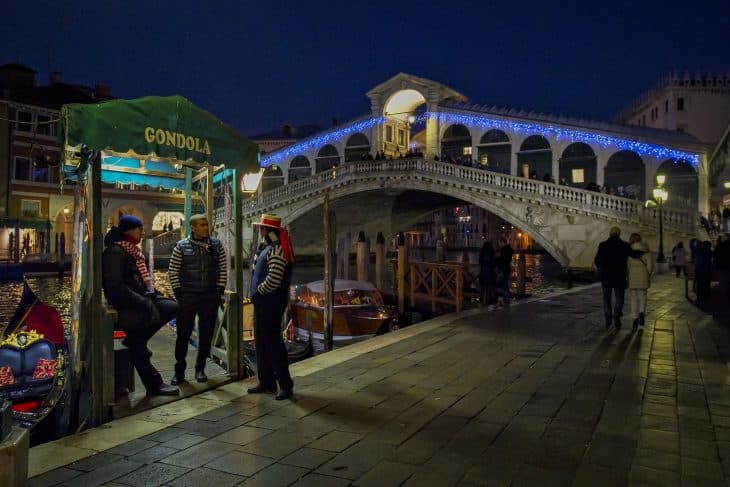 Venetian Christmas Markets: Shopping for gifts
Venice is a great place to shop for Christmas gifts, with its unique handmade gifts such as glass ornaments or lace decorations. Campo San Polo's Christmas market is a favorite with its small stands and ice skating rink. The famous Santo Stefano Market has been temporarily closed.
You'll find many decorative masks at the market, as well as in shops, with Carnival just around the corner. Don't forget to check out our guide on Carnival and where you can buy Venetian masks. ).
We recommend a one-day trip to Murano, a nearby island, for the Natale di Vetro (Christmas of Glass), celebration. There are many great gift options.
Visit museums in Venice during Christmas
If you are an art lover and plan to visit Venice during the holidays, this is the time to do it: You can enjoy centuries-old masterpieces and churches without having to crowds.
Remember that the city's churches will be closed on Christmas Day, and they will only be open during Mass.
On the following days museums are closed:
Doge's Palace: The Gothic palace belonging to the ex-Venetian leading families is closed from December 25th through January 1st.
Galleria dell'Accademia – Home to art from the pre-19th century and Da Vinci's "Vitruvian Man", which is on display occasionally, the gallery closes on Dec. 25 and Jan. 1.
Peggy Guggenheim Collection The 20th-century art collection closes on Dec. 25, but it's the only museum in Venice that's open on New Year's Day.
Ca'Rezzonico – The 18th-century Venetian art museum will be closed on Dec. 25th and Jan.
Museo Correr is closed from Dec. 25-January 1.

Holiday shopping, eating, and public transport
Christmas Day is a day when most restaurants and stores close so that locals can enjoy a big meal with their loved ones. There are still many great options for traditional meals like Alle testiere or Corte Sconta, Anice Stato or Trattoria La Furatola. Remember to book as soon as possible. The same applies to New Year's Day.
The Vaporetto schedule (water bus) runs on a restricted schedule during the holiday season. Before planning your trip, make sure you check the schedule. You can rent private water taxis, however, they will be more expensive than on other days.
Celebrate Christmas like the Venetians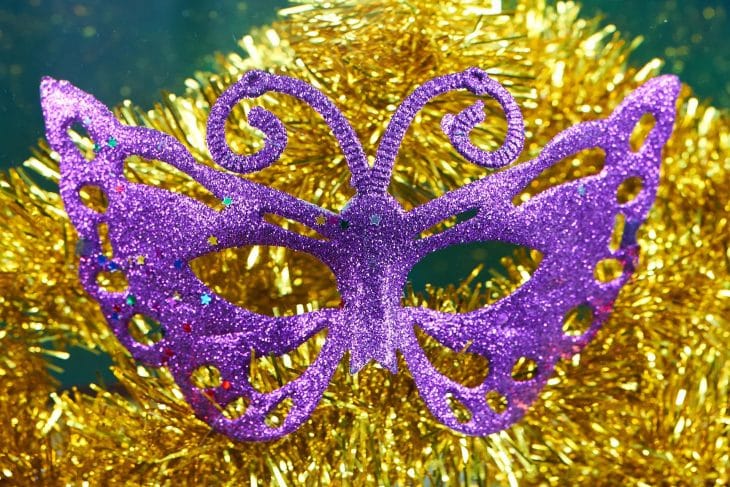 Venetians celebrate Christmas Eve with la Vigilia, a multi-course fish meal. Many people follow the meal with a midnight Mass at Saint Mark's Basilica, with services in English, French, German, and English. Technically, midnight Mass begins at 11:30 pm. We recommend arriving a few hours before to ensure a spot.
Christmas Day is often celebrated with large meals with the family and opening gifts. (Check out our post about how to eat Italian Christmas. Italians celebrate Santo Stefano on December 26 with a national holiday. We recommend that you follow the Venetians at the Santa Maria Gloriosa dei Frari Church at 4 pm for a free concert. This is a great way to enjoy the historic church and the choir.
Venice welcomes the new year with a ringing of the bell
New Year's Eve in Venice is usually marked by a delicious dinner that ends just in the time it takes to see the fireworks. You should make reservations for dinner well in advance. Some of our favorite spots that are open on New Year's Eve include Terrazza Danieli and A Benccafico.
St. Mark's Square becomes lively after the sun sets. There's a masquerade party with live DJs, performances, and fireworks at midnight. For a more relaxed celebration, head to Piazza Ferretto de Mestre and Punta della Canana.
If you want to celebrate the new year in a different way, go to the La Fenice Theatre to enjoy an elegant opera on the evening of January 31st.
Swimming in the Lido is a Venetian tradition for the New Year.
Tradition has it that brave swimmers go to the Lido to start the year with an energy boost!
Another unique tradition? Another tradition is the Jan. 6 Venetian celebration of la befana. They dress up as the "good witch" to compete in a Grand Canal rowing race. (Check out our post la Befana to find out who she is.
Going for the mountains
You want to get away from the holiday hustle and take some time to enjoy the beautiful mountains. You can ski for a day or a weekend in the Dolomites, which are close by. To reach the mountains, we recommend renting a car as shuttles can only run during holidays.