You can enjoy a day trip from Rome to Positano by spending a few hours shopping in the boutiques and eating lunch. Check out our Italian Tourism Blog for more tips, tricks, and the best-of lists.
Positano is one of the most beautiful towns along the Amalfi Coast. Positano, Italy, is often called the "Jewel of the Amalfi Coast". Its setting on the Italian coast, its pastel houses perched high, and the church's shining dome have made Positano a popular tourist destination for many decades.
It's no surprise that Positano is a favorite summer (or anytime!) destination in Italy. You want to get the most out of your vacation? This is our insider's guide to Positano. You can also find more information on the Amalfi Coast and tips to make the most of the Amalfi Coast.
Positano's VIP beach: Spiaggia Grande
Spiaggia Grande is the longest and most extensive stretch. It's the place to be seen and heard! Spiaggia Grande, lined with bars, restaurants, and even disco ("Music on the Rocks") is the heartbeat of Positano's social scene. This beach is a favorite spot for tourists and locals. It's also the best place to take in the stunning view of the town. Positano doesn't have any white sandy beaches. If that's what you're looking for, check out our post on the most beautiful beaches in Italy. Positano's sand is grey and pebbly, but it's not a problem. With its stunning setting and crystal-clear waters, you won't notice what type of sand you're sitting on.
Insider's Tip: Most beaches in Positano have private operators that provide sunbeds, umbrellas, and other facilities for a nominal fee. Spiaggia Grande has a beach that is close to the ferry docks. This beach is free so you can lay your towel down.
Undiscovered beaches in Positano

There are other beaches in Positano that offer tranquil, more laid-back beaches than the Spiaggia Grande VIP scene. Fornillo beach is just a 10-minute walk from the main town via Via dei Positanesi d'America. Positano's main Pier offers a boat service to the beach that is free.
Insider's Tip: This is also the beach to go to if your budget allows for private beaches (like umbrellas) but you don't want to pay EUR12.50 per day at Spiaggia Grande. At Fornillo it costs EUR7. Fornillo also offers delicious and reasonably priced lunch options.
Do you want to travel further? It can be difficult to reach the beach at Arienzo. This beach is located 450 steps away from the main road. There is a boat that can transport you to the beach from the town pier. Laurito is another popular beach, and it also offers boat shuttles. It is also home to the famous restaurant Da Adolfo.
Shopping in Positano – The best clothing boutiques

Do you love shopping? Positano is the place for you! Although it isn't quite the same as shopping in Milan, the town boasts a thriving fashion industry. Positano fashion (Moda Positano), is perhaps the most famous beachwear in the entire world. Positano fashion was established in the early 1900s. It has been hugely popular ever since. You'll find plenty of boutiques selling Positano clothing as you walk down the streets, which can feel more like a staircase.
Insider's tip: For a dizzying array of casual wear, stop by Antica Sartoria. There's one in Piazza Mulini and another on the main beach. You are looking for something more sophisticated? Pepito's (at Via Pasitea39) has the right solution.
Shoes shopping in Positano

What are the best Positano souvenirs available for women? These sandals are handmade from leather. They can be made as many times as you like (simple straps). Glittering gems? You have the option! You can even watch these skilled artisans make a pair of sandals just for you.
Insider's Tip: There are many stores selling handmade sandals all around town. We love the small, discrete Safari on Via della Tartana 2 and La Botteguccia 19, which is a family-owned business. Sandals cost about EUR60 on average
And don't forget your Amalfi coast ceramics…

These hand-painted ceramics are available in many different designs and colors. Many of these ceramics are from Vietri sul Mare on the Amalfi Coast. Many are also sold in Positano.
Insider's Tip:Ceramica Assunta, Via C. Colombo, 97, has a large selection of ceramics with intricate designs and lemons. These make great souvenirs or gifts! ).
Sweet treats in Positano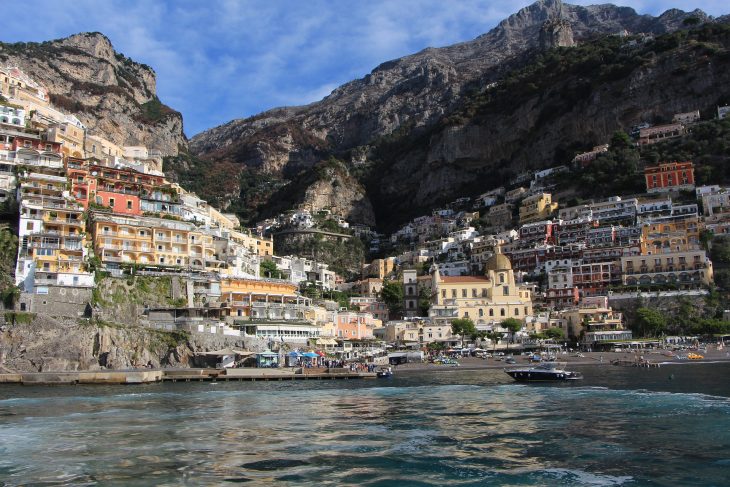 You've been to the beach and made some purchases. Positano has so much more to offer. You must eat!
The Amalfi coast is famous for its enormous lemon groves. Some are as big as cantaloupes! Do you have a sweet tooth You must try delizia Al Limone. This is a sweet treat that's made with limoncello . Delizia al Limone is a sponge cake topped with lemon cream. It's great for breakfast, tea, or dessert. La Zagara (Via dei Mulini 8, 10), a pastry shop featuring a window display that is a delight, is the best place to enjoy this delicious treat.
Torta caprese is another option. It's a must-try on Capri, as we've already mentioned. It's the perfect way start your day, paired with a cappuccino
Are you looking for other breakfast options? Buca di Bacco Bar on Spiaggia Grande offers a wide range of pastries, including the fluffy brioche and flaky shell-shaped Sfogliatelle. You can't go wrong with everything, as it is all delicious.
Insider's tip: To save money, eat breakfast at the bar instead of sitting at a table. You can find more helpful tips in our blog post How to Avoid Being Rigged While Eating in Italy.
Go to the towns over Positano
Positano is a wonderful place. The towns that are above Positano, such as Montepertuso or Nocelle, are also great hidden gems and worth exploring.
These sleepy villages offer a glimpse into everyday life along the Amalfi Coast, with only a few tourists. You'll find children playing soccer in Montepertuso and people sitting outside, while Nocelle is serene, which is a good starting point for hikers on the Sentiero degli Dei. Nocelle is worth a visit even if you don't intend to hike the path. You can read more about the Sentiero Degli Dei and other trails in our post The Best Hiking in Italy.
Insider's Tip: To get to Montepertuso or Nocelle you don't have to drive a car. You can take the bus from Positano's Piazza dei Mulini. You can find the bus schedule at the Tourist Office on Via del Saracino. However, it is best to plan ahead and get one from them. You can also purchase tickets in advance at these sellers. You can also buy tickets directly from the bus driver, although it will cost you 30 to 50 cents more.