It can be overwhelming to navigate the public transportation system in Milan, including the tram, bus and subway. It is possible to navigate the city without difficulty, even if you don't have the money for a taxi or can't walk. Public transportation is an environmentally friendly way to travel. You'll save time and money by using public transportation. (Don't forget to check out our post about where to shop in Milan!
This is how you get around Milan. How to get from Milan to the airport. And how to make day trips. All this using public transport.
Milan airport transfer
Many tourists end up taking a taxi to Milan's center from the airport – for a price of around EUR100
Instead, you can take advantage of faster and cheaper public transportation options.
The Malpensa Express train runs from Milan's main station to the Cadorna FN and Stazione Centrale subway stops. It costs EUR11 for a one way ticket. It takes approximately 40 minutes. You can also take shuttle buses such as the MalpensaShuttle to Malpensa and Linate airports for EUR16 each way, Air Bus Linate between Linate and Stazione Centrale for EUR9 each way, and the OrioShuttle (EUR5 per way) from Orio al Serio.
Milan: How to get around
There are three options for public transportation in Milan: the tram, bus, and subway. Tickets and passes for the tram, subway, and bus cost EUR1.50 each way, EUR4.50 per unlimited day, EUR11.30 per week, EUR35 per month, and further discounts are available for students and seniors. Every ticket is valid for 90 minutes.
Tickets can be purchased at self-service machines and newsstands.
Ticket collectors are often dressed in civilian clothes and constantly check for tickets. Make sure you always have your ticket, even after validating it on the tram, subway, or bus.
Do you want to know exactly how to get to point A from point B? You can find the GiroMilano function on the ATM website.
Take the Milan subway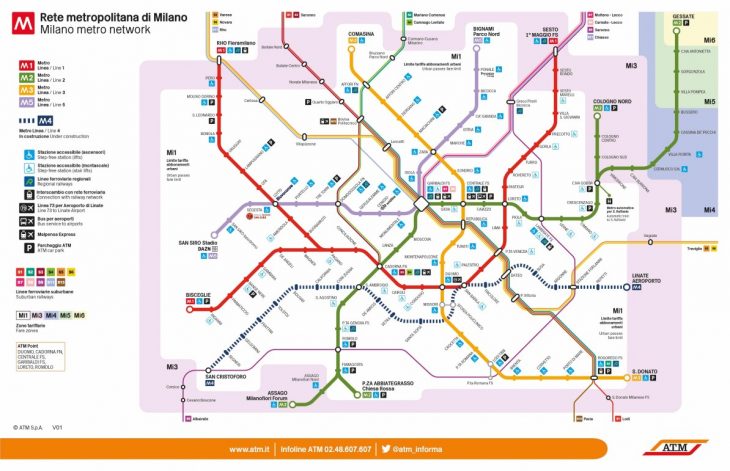 If you're looking for a place to take the subway, look out for the red-colored and white "M" lampposts. These signify the location of a metro stop.
Milan has four subway lines. Each line has its own number and color; you can transfer between them at the Cadorna Centrale, Duomo Loreto Porta Garibaldi, Zara and Loreto stop.
Milan's new ultra-modern line, the M5, is now operational. However, parts of it are still being built for expansion. Be sure to buy an extension ticket if you travel past the red dotted line into the suburbs.
Subway trains typically run between 6 am and 1 am. However, times can vary depending on which line you are using.
Milan's tram and bus system
Milan's public transportation system has more than 80 eco-friendly routes. The buses run on schedule, and most of them do!
The 94 circles the city and takes you to the most popular tourist attractions. It is also useful to know that a night route, which follows the stops of the metro during its closure, has been developed.
Before you get on the bus, press the button to notify the conductor.
Trams are a classic and fun way to travel. These trams, which are orange-and yellow or green, also offer night service, but you should be prepared for long waits.
Piazza Duomo is the central point of trams 2, 4, 14, and 16.
Whether you're taking the tram or bus, validate your ticket immediately after you get on board.

Day trips to Milan by rail
Milan is an ideal base to discover northern Italian treasures by train. Trenord commuter trains from Cadorna FN or Stazione Centrale station to reach the Lago Maggiore, and Lago di Komo lakes regions. You can also reach nearby towns such as Pavia, Bergamo, Cremona, and other smaller cities, like Bologna and Genova, Turin, Turin, and Venice.

Milan bike-sharing
BikeMi is another alternative to walking or taking a taxi. Milan's bike-sharing program is a great way of getting around the city.
There are many bike stations in the city center where you can pick up or drop off your bikes. This makes it easy to enjoy the sights and stop by. Register online at BikeMi or at your nearest ATM to get a daily, weekly, or annual subscription (EUR2.50, EUR6, or EUR36).
Bikers receive a username/password upon registration. They can ride for 30 minutes without any additional charge, and then they will be charged EUR.50 per hour. To avoid any penalties, make sure you check in every 2 hours! More information is available at the ATM website.