Sicily is a beautiful and peaceful island that also has a lot of drama. You can choose your adventure from your villa in Sicily, whether you are interested in history, food, and drink or just want to relax and enjoy the sunshine. Mount Etna is the dominant feature of the landscape. Its active presence provides forests, mountainsides, and cold lava streams for exploration. You will find great shopping, markets, and theatres in these cities. All this is within the protection of ancient streets. Our handy Sicily travel guide will help you choose the right holiday for you. It is packed with inspiration, tips, and other useful information.
Although the largest island in the Mediterranean may be located in Italy, Sicily has developed its own identity over the years. There are a few medieval villages and towns that offer the chance to enjoy the delicious smells of Sicilian cuisines over cobbled streets. You can relax on beautiful beaches, enjoy delicious Sicilian cuisine, take a wine tour, or even explore ancient ruins.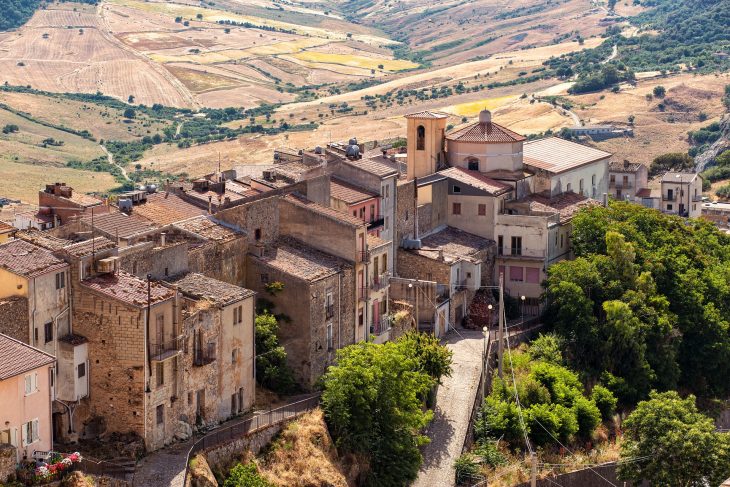 When should you visit
Sicily is one of the most southern destinations in Europe. Some parts are even at the same latitude as North Africa. The island has a long, warm summer and is open year-round. If you are lucky, you could swim in the warm waters of the sea up to November. The gentle breezes from the coast mean that even at the peak of summer (July/August), the temperature isn't too high.
The shoulder seasons are a great time to visit. Spring arrives early, while autumn comes in late. April through June and September through October bring balmy temperatures, warm waters, and fewer tourists. However, Sicily's long coastline makes it easy to avoid the crowds, even if you choose to visit during the peak of summer. The best time to hike is February when the weather is cool and sunny, the ground is covered with wildflowers, and the winter months are ideal for skiers who want to descend Mount Etna's slopes.
Typical sights
These are some of the most famous sights
Taormina – Explore the charming medieval town's cobbled streets.
Mount Etna: Ski down or climb up one of the most active volcanoes in the world.
Agrigento – Wander among the UNESCO-listed Ancient Greek Remains of the Valley of the Temples.
Palermo – Take in the lively vibe of one of the capital's street markets.
Syracuse – Discover the history and architecture of Syracuse, a 2,700-year-old city.
Lipari and the Aeolian Islands: Relax in whitewashed villages under bubbling volcanoes.
San Vito Lo Capo (Zingaro Nature Reserve). – Laze at the Blue Flag beaches.
Piazza Armerina & Villa Romana del Casale: See some of the most stunning and oldest Roman mosaics in the world.
Erice – Take a cable car up to an ancient mountaintop castle.
Airports: On a regular basis, flights from the UK fly directly to Palermo airport. Catania can be reached by direct flights with major and budget airlines. Trapani, Comiso, and other airports are also available on the island.
Trenitalia provides a comprehensive rail service connecting the major cities of the island. It is both efficient and economical. Buses are an option to reach more remote destinations. There is a good network that connects smaller villages and towns. On Sundays, service is slow to a trickle.
Renting a car: A monthly car rental service and car hire are the best ways to explore Sicily and find hidden gems. This is a great option for those who are short on time, as public transport schedules can be restrictive. Summer is a peak season for car hire, so book early. There are excellent motorways linking the major cities. The driving conditions are generally good. It can be difficult to park in cities during peak hours.